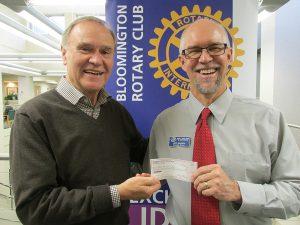 2015 Honoree - Dr Larry Rink
Dr. Rink, a pioneer in cardiac medicine, has served the IU men's basketball team as a team physician since 1978 and has served the community and the university in many other ways.
Since completing his medical degree, residency, and fellowship at IU, Dr. Rink has used his extensive medical training to deliver treatment for the heart and cardiovascular systems of patients in Bloomington.
Also, he has served as physician and chief medical officer at international sports competition in the U.S., England, Spain, Japan, China, Portugal, Slovakia, Poland, Canada, Korea, Austria, Turkey, Italy, Thailand, South Africa, Russia and other countries.
His specialty includes diagnosing and treating patients with symptoms of arrhythmia, angina, heart aneurysms, heart failure, coronary artery disease, congenital heart defects and rheumatic heart disease.
He has been involved in dozens of cardiac drug studies on a national scale while serving the Bloomington community as a Chairman, President & CEO, and Cardiologist at Internal Medicine Associates (IMA).
Dr. Rink was a founding member of the Monroe County YMCA in 1975, and served as a member of the Board of Directors until 1984.
Dr. Rink served on the Board of Directors and as President of the IU School of Medicine Alumni Association, on the Executive Council of the IU Alumni Association, and as a member of the Dean's Council of the IU Medical Center.
Half the proceeds from the Toast will benefit Dr. Rink's chosen charity, Bloomington Boys & Girls Clubs; the other half will be split equally among the three Rotary clubs to be used for local charitable causes.