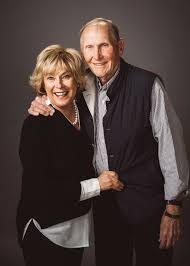 2018 Honoree - Connie and Steve Ferguson
Working together, the Fergusons have made an impressive impact on education, economic development, and quality of life in our community. Connie has been a member of the Ivy Tech Community College Board of Trustees since the Bloomington campus opened in 1998 and chair since 2001. In her 20 years of leadership, the campus has grown in physical size, headcount and scope of degree programs offered. Steve served 12 years—four as president—on the Indiana University Board of Trustees, supporting IU's academic restructuring, global engagement and facilities renovation and construction.
The Fergusons have worked tirelessly to support a vibrant downtown Bloomington. Steve was an organizing member of the Commission for Downtown Bloomington. Connie served as president of the Monroe County Visitors and Convention Bureau Commission, on the Greater Bloomington Chamber of Commerce Board of Directors, and as chair of the Monroe County Build History Fund. Among other contributions to quality of life, Connie and Steve donated the land for the Ferguson Dog Park north of Bloomington. Both have been recognized by the Greater Bloomington Chamber of Commerce for their exceptional leadership in generating positive change in the community, receiving the Diane Breeden Lee Catalyst Award – Steve in 1999 and Connie in 2014.
Connie and Steve have five children: Elizabeth Ferguson, Matthew Ferguson (Trisha), Amy Ferguson Sweeney (Brendan), Ty Mungle (Becky), and Eric Mungle (Amie Hawkins Mungle), and 11 grandchildren.
Half the proceeds from the Toast will benefit the Fergusons' chosen charity, the Scholarship Fund at Ivy Tech Community College; the other half will be used by the three Rotary clubs for local charitable causes.