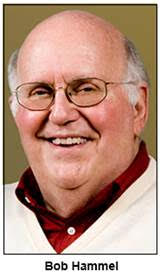 2020 Honoree - Bob Hammel
"For more than 50 years, Bob has told the stories of our athletes and, in the process, created a sense of pride and accomplishment in our community," said Toast Chair Sara Laughlin.
Hammel covered the 1968 Rose Bowl, the 1972 Munich Olympics, IU's perfect basketball season in 1976 and subsequent national championships in 1981 and 1987, and five Olympics. He also covered hundreds of college and high school athletes and sports events. He was named Indiana Sportswriter of the Year by the National Sports Media Association 17 times.
Hammel received the 1995 Curt Gowdy Award from the National Basketball Hall of Fame and the 1996 Indiana Basketball Hall of Fame's Silver Medal Award for distinguished service. He also has been awarded the Bert McGrane Award by the College Football Hall of Fame. He was inducted into the Indiana Journalism Hall of Fame in 1997.
He has authored 14 books, including his memoir, six on IU basketball and Bob Knight, and two on revolutionary Cook Group Founder Bill Cook.
In 2015-16 Hammel told the story of legendary Negro American Baseball League All-Star George Shively, buried in an unmarked grave at Rose Hill Cemetery since 1962. Hammel led an effort to place a significant gravestone for Shively and markers for his family and five other African Americans in the same previously unmarked plot. He also pulled together a well-attended dedication.
Hammel and his wife Julie support many community causes, including the Hoosier Hills Food Bank and Book Fair, the Monroe County History Center and the Monroe County Sports Hall of Fame. Three annually awarded IU scholarships in his name have awarded more than $75,000.
Retired Herald-Times Editor Bob Zaltsberg will serve as emcee.  Toasting Hammel will be son Dr. Richard Hammel of Cincinnati, author Michael Koryta, legendary IU running back and Lighthouse Community Church Pastor Anthony Thompson, Cook Group President Pete Yonkman, and Carolyn Stewart Walters and Kay Stewart, daughters of the late Bloomington Herald-Telephone Publisher Perry Stewart.
Established in 2015, the Toast recognizes community leaders who reflect the Rotary motto of "service above self."
Half of the proceeds from the Toast will benefit Hammel's chosen charity, Hoosier Hills Food Bank. The other half will benefit the three clubs' other local charitable causes.