6th Annual Rotary Toast 
Honoring Bob Hammel
7 p.m. Friday, November 6, 2020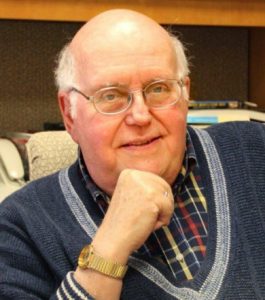 Legendary sportswriter and author Bob Hammel will be honored for a lifetime of "service above self" at the Bloomington Rotary Online Toast Friday, November 6 at 7 p.m.
Bob has selected Hoosier Hills Food Bank as his charity for this fundraiser, hosted by the three local Rotary clubs.
Buy your tickets by clicking on the orange buttons above or below.
Or you can send your check payable to Bloomington Rotary Foundation to P.O. Box 3412, Bloomington, IN 47402.
About the Toast
Established in 2015, the Toast recognizes community leaders who reflect the Rotary motto of "service above self."
In its first five years the Toast raised more than $210,000 for local charities. Previous honorees are Dr. Larry Rink (2015), Ron Remak (2016), Becky Hrisomalos (2017), Connie and Steve Ferguson (2018), and Cary Curry (2019).
The 2020 Toast will benefit Hammel's chosen charity, Hoosier Hills Food Bank (https://www.hhfoodbank.org/ ).
With the cancellation of the Book Fair, the Food Bank's major fundraiser, and increased demand for food, support for the Rotary Toast is especially critical this year.
About Hoosier Hills Food Bank
Hoosier Hills Food Bank (https://www.hhfoodbank.org/ ) collects, stores and distributes food to non-profit agencies that feed the hungry in Brown, Lawrence, Orange, Owen, Martin and Monroe counties in Indiana. HHFB is a 501(c)(3) non-profit organization.
Over 100 non-profit member agencies serve more than 25,800 individuals each year.
Sponsorships
To become a sponsor, click here.
Questions
Contact Mike Baker at mbaker@bluemarble.net or (812) 327-7339.